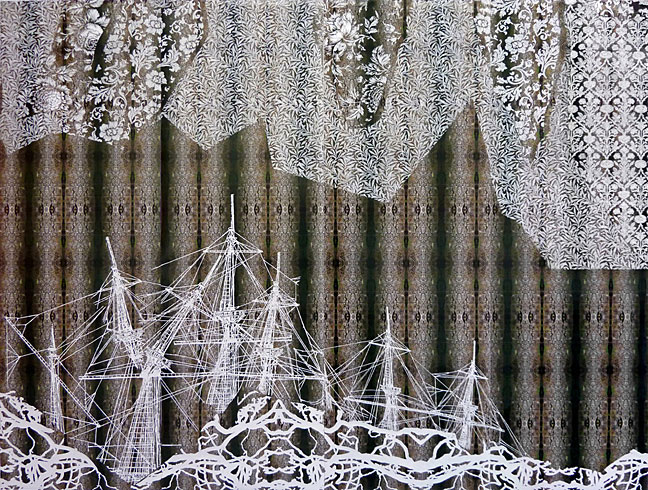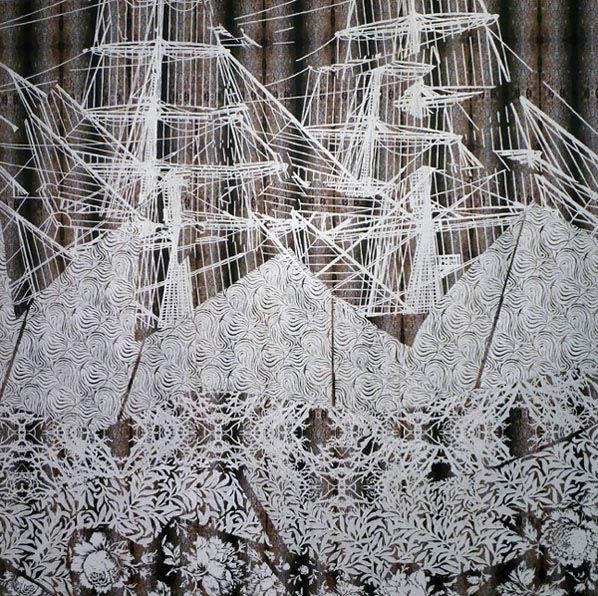 Runaway
Below is the artist statement that originally accompanied this work, however the experimentation of the project extended through several exhibitions and presented several radical shifts with multiple styles often coming at once. This gallery tries to sum up some of the rather large scale images of ships scratched into photographs with some more experimental pieces involving painting over scratching, painting onto the glazing or playing with the notion of framing as a way of combining a publishing trope with a convention of presenting artwork as a means of finding a conceptual bridge between my writing and visual practices.
Christopher Russell
Artist's Statement
Remember when defense of digital media came in the statement "It's a tool," back before digital was a common prefix to the word Photography? That's the easiest analogy for how I use digital imaging, a tool used in conjunction with expressionist gestures, romantic drawings, book and wallpaper design that combine to further the impression of written narratives as large-scale installation.
I draw freely from historical sources, as varied as the Arts and Crafts movement and Avant Garde and New Narrative. Historical references become a trail of breadcrumbs to be followed through complex psychological narratives that act to extend the cultural dialogs of identity politics. Fusing technology and history in order to expand discussions of class and gender.
My latest body of work, an exhibition and book titled Runaway, looks at childhood fantasies of running away from home through a lens of Avant Garde Utopias and apocalypse movies, juxtaposing the fear and hope associated with forming an independent identity.